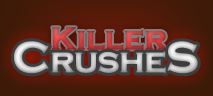 HD Requirement:

Computer Requirements HD file sizes are quite large and will consume a lot of memory. A good video card and at least 1GB of RAM should be considered a requirement to play this video. Shared video memory should work if you have enough RAM memory. DO NOT try and stream this file. Download it first then play it. If the video stutters you might not have enough available memory and might have to close other programs.

Full Updates Lists
This page lists all the KillerCrushes updates. Check back here often to see what's new at KillerCrushes!
2016-10-17 - Ace & Buffy - Playful Domination, part 1
At 5-6, 130 lbs of sexy, fit muscle, even though she has no combat training, Buffy is quite the formidable opponent for most women anywhere. But at 5-10, 185 lbs of solid muscle, jiu-jitsu purple belt, Ace, is no ordinary woman. To say Buffy - aka "Little One", says Ace - is seriously overmatched on the mats vs Ace is a tremendous understatement. And once her dominance is established - which takes about 6 seconds - she then decides to have some fun with the cute blonde, even allowing sexy Buffy to take top position a few times. And though she may be much smaller than Ace, Buffy's long legs pack quite a bit of scissoring power, which we also get to see. At the end of this playful grappling session, the 2 square of in a little thumbwrestling match. This is part 1 of that video.

2016-09-02 - New Crusher and clip: Missfit Tess
Fans of our Clips4Sale store or YouTube page may have seen her already, but KillerCrushes is thrilled to welcome the gorgeously muscled Missfit Tess to our Members Section in a clip featuring a matchup with Pretty Boy Nic. I hope you enjoy that grapevine, Nic! lol

2016-09-01 - New Crusher and clip: Emi Jaxon
KillerCrushes is pleased to welcome Emi "Beast" Jaxon to the family. She makes her KC debut vs Little Jonni and - like most women - quickly tires of his big mouth and decides to make him feel a little pain. He gets what he deserves!

2016-08-31 - Jolene vs Nic, Part 2
Jolene loves beating up the boys. Nic's torment continues. Lucky Nic.

2016-05-04 - Kelli Crush vs Buffy, part 2
Kelli takes Buffy's back and clamps on a tight bodyscissor, but the tenacious Buffy refuses to submit.

2016-04-08 - Jolene: Beatdown Boy
Jolene may be the sexiest woman alive, but she's also one of the most sadistic. Mouthy little Krrrs finds that out the hard way as Jolene makes him her personal dummy as a result of his non-compliant behavior. The strikes are all real: smacks, groin kicks, and foot stomps. Add in chokes and scissors and this was a terribly brutal scene. Spoiler alert - Krrrs is left lying helpless when she finishes with him. We called a friend to come take him home and he was not able to shoot the following day. This member video in beautiful 1080p resolution is the full-length version that will be made available later to VOD customers. It is the same version that's currently available in our Clips4Sale store.

2015-12-29 - New Crusher and clip: Kelli Crush
We'd been looking forward to this match all week, and finally it was time to see ultra-muscular, Kelli Crush, a 5-0, 130-lb newcomer, take on sexy fitness vixen, Buffy (5-6, 132 lbs), a veteran of a few mixed and fantasy matches. Even though these two athletes got along relatively well, there were a few seriously competitive moments during this match, which features some pretty good scissoring leading up to a final submission. Category: "playful competitive".

2015-12-25 - New Crusher and clip: Ivy
It's been a long wait, but at last, IVY makes her debut on the site. Known for her incredible biceps and wicked smile, this armwrestling world champion proves she's pretty capable on the mats, too. Enjoy!

2015-11-20 - New Crusher and clip: Big Tinah
At a monstrously sexy, 5-5, 180 lbs of rock-hard muscle, Big Tinah certainly lives up to her name. While working out, she notices wimpy little Connor checking out her big, badass muscles and decides to tease him a little. Next thing you know, he's engaged in some pretty heavy muscle worship and Tinah tells him that he's welcome to touch, but that those pleasures don't come for free. When he balks, he winds up with Big Tinah sitting on his face and then finds himself in between her huge fucking legs, until he agrees to pay what he owes.

2015-10-15 - New VOD added
Celeste's new video is available today in our CrushOnDemand store. She takes on the smaller, but very muscular Missfit Tess, and teaches her a thing or two about scissoring, while verbally taunting her.

2015-09-30 - New Crusher and clips: White Mamba
White Mamba may be the most lethal, pure natural crusher ever. At 5-7, 185 lbs with 28" quads, each of her legs is bigger around than the average guy's head. She can literally swallow them whole with her pulverizing pillars. She doesn't really "scissor" her victims. Instead they are subject to industrial-strength hydraulic mashing that no man (or woman) has yet been able to endure. She tortures poor, little Spike until *she* tires of him. Following his torture tests, he had to visit the chiropractor 6 times over the next few weeks and had migraines for over a month...each one a reminder of White Mamba's humiliating display of her power. And to add insult to injury, she makes him compare his tiny muscles to hers while laughing at him and humiliating him even further. The first 3 clips from her brand-new VOD are available in our Members' Section today. FREE PREVIEW

2015-09-16 - Jolene vs Nic VOD Added
By popular demand, the full-length Jolene vs Nic video has now been added to our CrushOnDemand store.
"We are pleased to welcome gorgeous superstar Jolene Valkyrie to the Crush family. The 5-8, 130-lb lithe, muscular pinup model makes her Killer Crushes debut in a submission match vs 6-0, 190 lb Nic. There isn't a ton of trash-talking from Nic, but Jolene doesn't need any motivation whatsoever to deliver the beating he deserves just for daring to step on the mat with her. She submits him with a variety of chokes, scissors, and an excruciatingly painful grapevine that still hurts me when I think about it. And she does it all with seemingly so little effort, which just further heightens the humiliation."
2015-09-15 - New Crusher and clip: Rapture vs White Lightning
KillerCrushes is thrilled to welcome world-renown Rapture to the roster and we bring you a competitive segment from the "Rapture Rules" video where she takes on newcomer White Lightning. Visit the updated members' section today!

2015-09-12 - New Crusher and clip: Jolene
We are pleased to welcome gorgeous superstar Jolene Valkyrie to the Crush family. The 5-8, 130-lb lithe, muscular pinup model makes her Killer Crushes debut in a submission match vs 6-0, 190 lb Nic. Enjoy this opening clip as she clearly lets him know what he's in for!
2015-09-09 - New Crusher: Celeste
More often than not, the guys in our videos have more mouth than fighting skills and Spike is no exception. In fact, he may have the biggest mouth-to-inability ratio of anyone this side of Kent. Not only can he not fight, but this schmuck has no idea how
to even defend himself. Luckily for him, Celeste was feeling a bit merciful. Her squeezes hurt like hell, but at least she didn't hospitalize him. Check out the full fantasy wrestling clip in the members' section today.
2015-09-08 - New VODs Added
Be sure to check out the CrushOnDemand VOD page for the latest offerings featuring Ace, She-Hulk, and more!

2015-08-04 - New Models & Full video: Ace vs She-Hulk
As a thank-you to our loyal members, this full-length video is included as part of your regular membership. At a combined 11 feet 8 inches and 370 lbs of solid muscle, this is probably the biggest matchup we've ever had. 5-10, 185-lb She-Hulk is every bit as strong as her name would imply. She's a heavy equipment operator who pretty much dominates any room - or gym - she ever walks into. Baddest bitch on the block? More often than not, no one even questions whether that's the case. But "Ace's Place" isn't any old block. Up until this point, she's been undefeated on the mats, and when she walks in a room, people just know to back the fuck down. At 5-10, 185 herself, she may not be quite as farm strong as She-Hulk, but she's got years of technical fighting under her belt, whereas She-Hulk's grappling experience has been limited mainly to crushing unruly boyfriends. This video is not for fans of fantasy. This heavyweight matchup is for fans of competitive wrestling. Free preview: https://youtu.be/nqo7pznvlao
2014-09-15 - 2 New Models: Celeste & Natasha Fit
Celeste and Natasha Fit make their debuts with KillerCrushes in this scrap filmed last month in northern California. Natasha comes in with a fair amount of martial arts skill and has the very strong and fit body of a professional dancer, while Celeste is a powerfully built bikini athlete and aspiring physique competitor with legs for days. After the filming was done, BOTH women demanded a rematch! Free preview: https://www.youtube.com/watch?v=g47k-biaPoU

2013-12-28 - New Model: JC Simpson!
That's right, the sinister squeeze sister, JC, is our newest and sleekest crusher. In today's up, she blows up Tony's little world and leaves him wondering why he ever responded to that classified ad. Oops.
2013-12-13 - New Buffy vs Addie Clip
They're at it again, this time because Buffy is fed up with Addie and her boyfriend having too much sex. Buffy even threatens to take Addie's boyfriend for her own pleasure...the nerve!